Gain a deeper understanding of employee absence and improve productivity.
Keeping an eye on employee absence is crucial to your business's success. After all, employee absenteeism affects everything from productivity to staff morale.
Breathe's easy-to-use absence management software gives you the power to better understand your absence record, identify absence problems, and set about resolving them.
Absence management software helps you oversee holiday requests, periods of sickness, and all other types of employee absence, all while enabling you to more deeply understand leave-related trends or issues.
Accurate data, at your fingertips
Breathe's software records and stores all information regarding employee absence and holiday entitlement.
Your team can access this data from any device, so there's never any misunderstanding about how much time they've taken off.
Supporting information, like Bradford Factor scores for each employee, helps you root out absenteeism before it can become a problem.
Keeping a grip on employee leave is vital, but it can be a real drain on your resources. Instead of closing exciting new deals or improving business processes, you're trying to figure out how many holiday days Paul from marketing has left to spend this year.
Breathe's absence management software gives you back the precious hours you'd otherwise spend on laborious HR admin.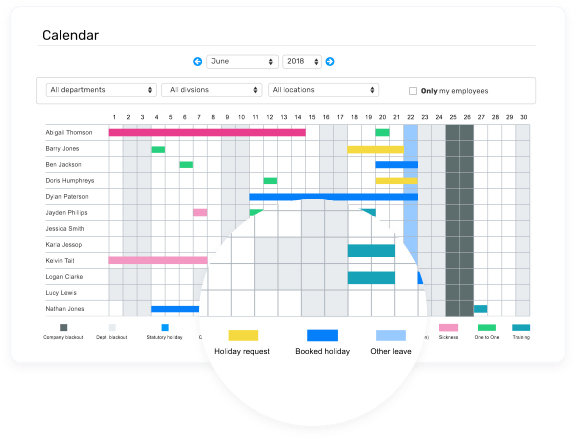 Breathe's easy-to-operate employee portal gives your team transparency over their leave.
They can review all policies and procedures, book off time, and log their sickness – with the ability to upload supporting documents – from one place.
This creates a level-playing field for both your employees and your business, doing away with any chance of miscommunication.
Want an all-in-one HR system?
Start your FREE 14 Day Trial of Breathe HR Software, with no obligation to buy.